Leave it to my washing machine to have a breakdown in a lockdown. For various reasons I didn't via the landlord get a new machine until a few weeks ago, making in about 6-7 weeks of hand washing. With my 6-7 weeks experience of hand washing I'm sharing what I learnt manually washing clothes, towels and linen. Exciting huh?!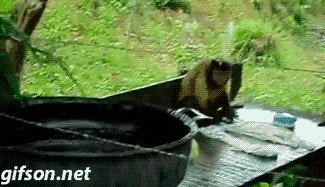 Source Giphy
Washing machines revolutionised the world. They free up time. They do the dirty hard work. All you have to do is pop the load in the machine, press a few buttons, leave it to do it's thing, you go do other stuff until it bleeps all done, either air dry every thing or tumble dry. Done. I line dry which requires:
Timing. I couldn't wring all the water out. It's physically impossible. Not even a washing machine can unless it tumble dries too. I had to check the weather a few days ahead to plan laundry days for drying on the balcony. Thankfully I have a bath and the washing rack fitted in the bath to catch the run off. However leaving like that overnight nothing dried. I could have put a towel underneath the rack and let it air dry in the living room, but that would result in parquet water damage. Thankfully there were only a couple of stormy days and I wasn't wearing much. Clothes were on repeat in lockdown and it was mostly lounge clothes. No pretty outfits. 
I already hand wash my bras so I thought I had how to hand wash down. Nope. You need buckets. A few buckets. I already had a bucket and salad spinner for help drying my bras (trust me. It's a game changer!) but soon realised I need another. Thankfully my local big supermarket, the cleaning bucket isle wasn't tapped off out of bounds. With 3 buckets, bowls I learnt:
You have to run an little bath with liquid (preferably environmentally friendly laundry detergent. I use magnesium balls (I use another brand) learning buying the gentlest for sensitive skin liquid detergent again is expensive) then add the clothes. Rather than dump them all in, each individual item you swish around a little, rub fabric together to start to lift dirt, repeat a few times like how a machine does. When all the items are in, swish them around some more. I found with towels I had, dump the water and start again with the detergent. One 'wash' wasn't enough. I then left them overnight for the detergent to I dunno, lift anything else with enzymes. That was the easy part.

Source Giphy
Rinsing is the harder part. I'm dreading the next water bill. Although it'll be interesting to see if hand washing vs washing machine uses more water. To ensure all the detergent is removed you have to rinse, rinse, rinse baby. I found the easiest way again was individually as each item and type of fabric holds the detergent at different rates. Cotton Continue reading "What I Learnt Hand Washing For 6 Weeks" →